Review: The Graphic Syllabus and the Outcomes Map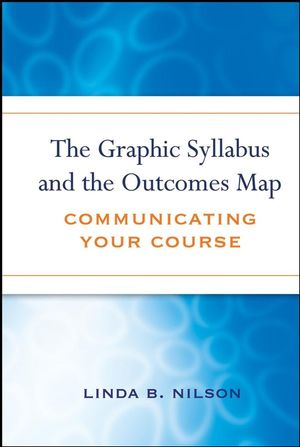 Reviewed by: Alice Cassidy, In View Education and Professional Development
Try a fresh and creative approach
+ Really introduce your students to your course =
Linda Nilson
-> Graphic syllabus
+ Outcomes Map
->
Maximize learning
I attended my first STLHE conference in 2001, hosted by Memorial University in St. John's, Newfoundland and was lucky/smart enough to attend a pre-conference workshop on graphic syllabi, led by Linda Nilson. Throughout my academic training in the biological sciences, I always found that visual tools, such as maps, charts and diagrams worked better for me than prose, lists, or other large blocks of text. Taking part in Linda's session and reading this book helped to inspire me to use these approaches in my own teaching and educational development work.
This slim volume (181 pages) is filled with practical information that you can use right away, whether you are designing a course for the first time, or looking for ways to freshen it up and help your students to be as enthusiastic about the course and their part in it as you are about teaching it.
The book reads the way Linda facilitates – clear, organized, concise, helpful and inspiring. It really is a step-by-step guide. You will be shown how and why graphics enhance learning, with reference to the published literature. She walks the talk, providing a graphic syllabus of the book.
Even for those who are familiar with tools such as concept maps, mind maps and graphic metaphors, the syllabus examples Linda includes, using them to show ways to think about the philosophy, structure, process and sequence of your course, are extremely helpful in taking what is in your head, or on a traditional-style syllabus, and turning it into something that, as Linda describes "students care about."
You will also find a very clear overview of types of objectives, from ultimate to foundational, explaining several frameworks in the literature that you might use to organize your outcomes map.
Many examples of both graphic syllabi and outcomes maps, sometimes masterfully combined, and from a variety of disciplines, instructors and institutions complete a great book. I found myself flipping through looking at the examples first, then Linda's notes about each one, then starting the book right from the start. What a great way to visually learn something new!
If you are interested in the use of visual tools for teaching, learning and in other useful contexts, you may also want to explore the work of some other fine colleagues, whose seminars I have really enjoyed over the years, people such as
Greg Fleet
,
Alison Mostrom
,
Jim Hope
and
Donna Ellis
.
I don't know him personally, but the Thinking Maps work of
David Hyerle
is well-known.
I have also written a bit about the use of concept mapping, for use in learning portfolios, in
Volume 3 of CELT
and with two colleagues at UBC, based on some
workshops
we led there.